SIMGOT EW100 or EW100P 10mm Dynamic Driver in-Ear Monitors, Dual Cavity IEM with or without Microhpone
Regular price
RM95.00 MYR
RM0.00 MYR
Unit price
per
Tax included.
Product Description
VERY Important: Please select correct version:
EW100 with Microphone 3.5mm (non Detachable)
EW100P no Microphone 3.5mm (Detachable)
EW100DSP with Mic but Type C (Detachable)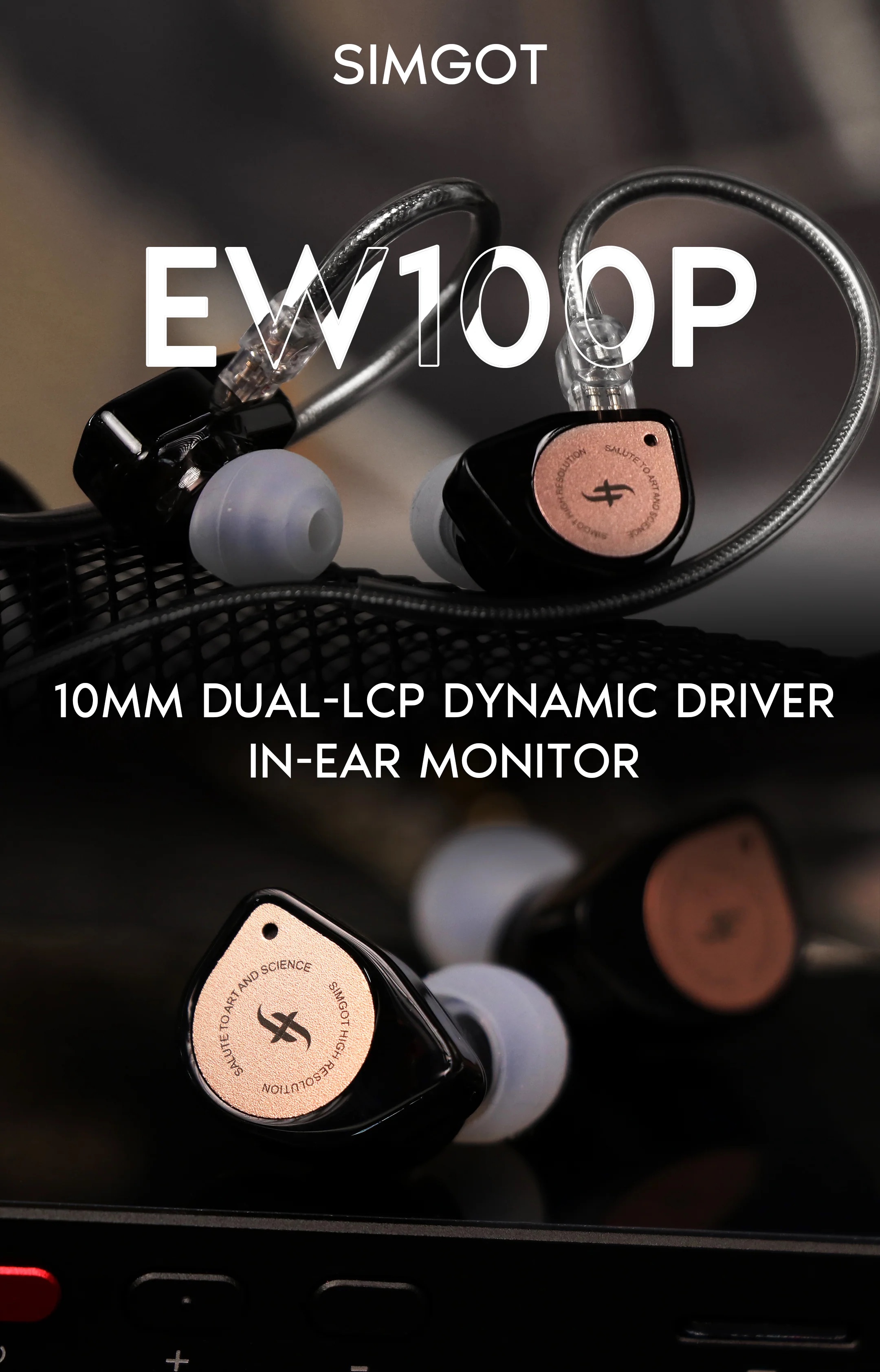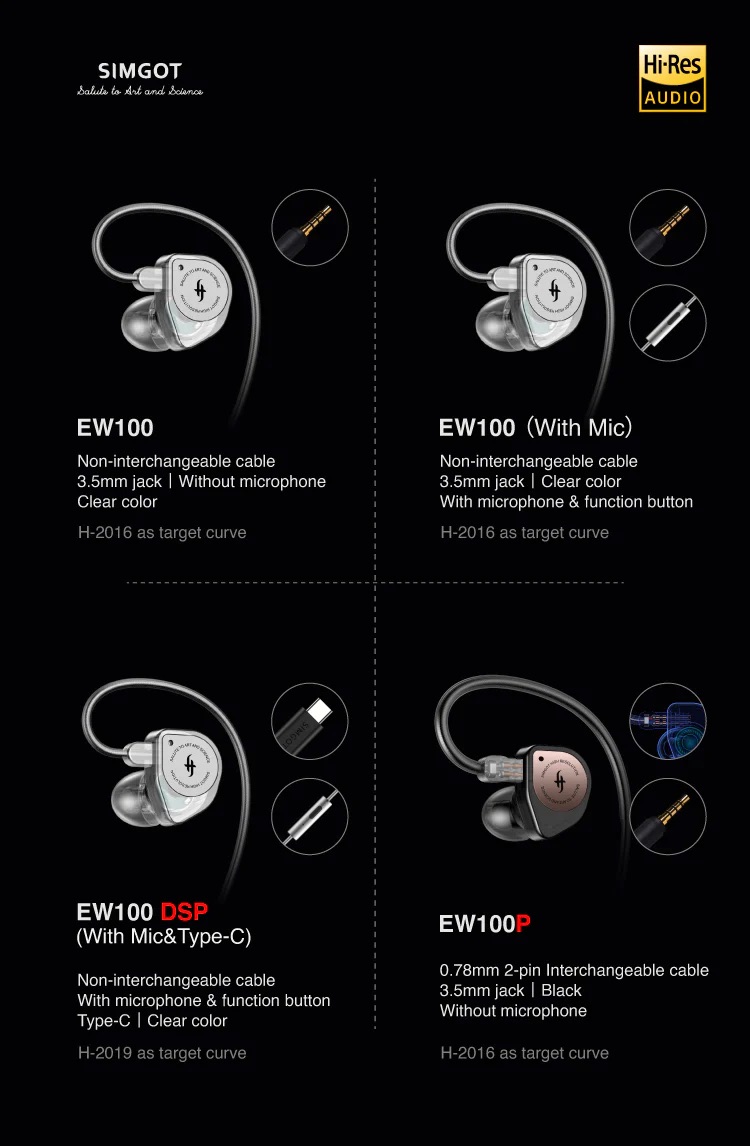 【𝐅𝐞𝐞𝐥 𝐭𝐡𝐞 𝐁𝐞𝐚𝐭, 𝐄𝐧𝐣𝐨𝐲 𝐭𝐡𝐞 𝐏𝐮𝐫𝐞 𝐌𝐮𝐬𝐢𝐜】Experience unparalleled audio quality with the SIMGOT EW100P in-ear monitors, designed for true audiophiles and music enthusiasts. Our cutting-edge technology ensures that you enjoy every beat and detail of your favorite tracks. Upgrade your audio experience with the SIMGOT EW100P in-ear monitors, and discover the true potential of your music.
【𝟏𝟎𝐦𝐦 𝐃𝐲𝐧𝐚𝐦𝐢𝐜 𝐃𝐫𝐢𝐯𝐞𝐫&𝐇𝐢𝐠𝐡-𝐩𝐞𝐫𝐟𝐨𝐫𝐦𝐚𝐧𝐜𝐞 𝐃𝐮𝐚𝐥 𝐋𝐂𝐏 𝐃𝐢𝐚𝐩𝐡𝐫𝐚𝐠𝐦𝐬】The SIMGOT EW100P features a 10mm dynamic driver that accurately restores the original sound, delivering an immersive and detailed audio experience. Equipped with dual-layer Liquid Crystal Polymer (LCP) diaphragms, these in-ear monitors produce strong, powerful sound with the excellent transient response and reduced distortion.
【𝐂𝐚𝐯𝐢𝐭𝐲 𝐃𝐲𝐧𝐚𝐦𝐢𝐜 𝐃𝐫𝐢𝐯𝐞𝐫 𝐅𝐢𝐞𝐥𝐝 𝐏𝐨𝐬𝐢𝐭𝐢𝐨𝐧𝐢𝐧𝐠&𝐓𝐫𝐚𝐧𝐬𝐩𝐚𝐫𝐞𝐧𝐭 𝐇𝐨𝐮𝐬𝐢𝐧𝐠】The innovative cavity design and dynamic driver field positioning provide an accurate sound stage and precise imaging, ensuring a true-to-life listening experience. Moreover, the SIMGOT EW100P showcases its intricate internal components through a sleek, transparent housing that's both stylish and functional. Constructed with a high-quality H-2016 PC aluminum alloy, the SIMGOT EW100P offers enhanced stability and durability for long-lasting performance.
【𝐓𝐚𝐫𝐠𝐞𝐭 𝐂𝐮𝐫𝐯𝐞 𝐌𝐞𝐭𝐚𝐥 𝐒𝐭𝐫𝐮𝐜𝐭𝐮𝐫𝐞&𝐇𝐢-𝐑𝐞𝐬 𝐀𝐮𝐝𝐢𝐨 𝐂𝐞𝐫𝐭𝐢𝐟𝐢𝐜𝐚𝐭𝐢𝐨𝐧】The in-ear monitors feature a metal structure designed to follow the natural curve of your ear, ensuring a comfortable fit and secure placement. It is also "Hi-Res Audio" certified, guaranteeing high-resolution audio performance that meets the most demanding standards in the industry.
【𝐒𝐢𝐥𝐯𝐞𝐫 𝐅𝐨𝐢𝐥 𝐒𝐡𝐢𝐞𝐥𝐝𝐞𝐝 𝐃𝐞𝐭𝐚𝐜𝐡𝐚𝐛𝐥𝐞 𝐖𝐨𝐯𝐞𝐧 𝐂𝐨𝐩𝐩𝐞𝐫 𝐂𝐚𝐛𝐥𝐞】The included detachable woven copper cable is shielded with silver foil, ensuring optimal signal transmission while being easy to drive. This high-quality cable offers enhanced durability and reduced microphonics for a superior listening experience.