SIMGOT EM6L 1DD + 4BA Hybrid Driver In-ear Monitor Simgot EM6-L
Regular price
RM459.00 MYR
RM0.00 MYR
Unit price
per
Tax included.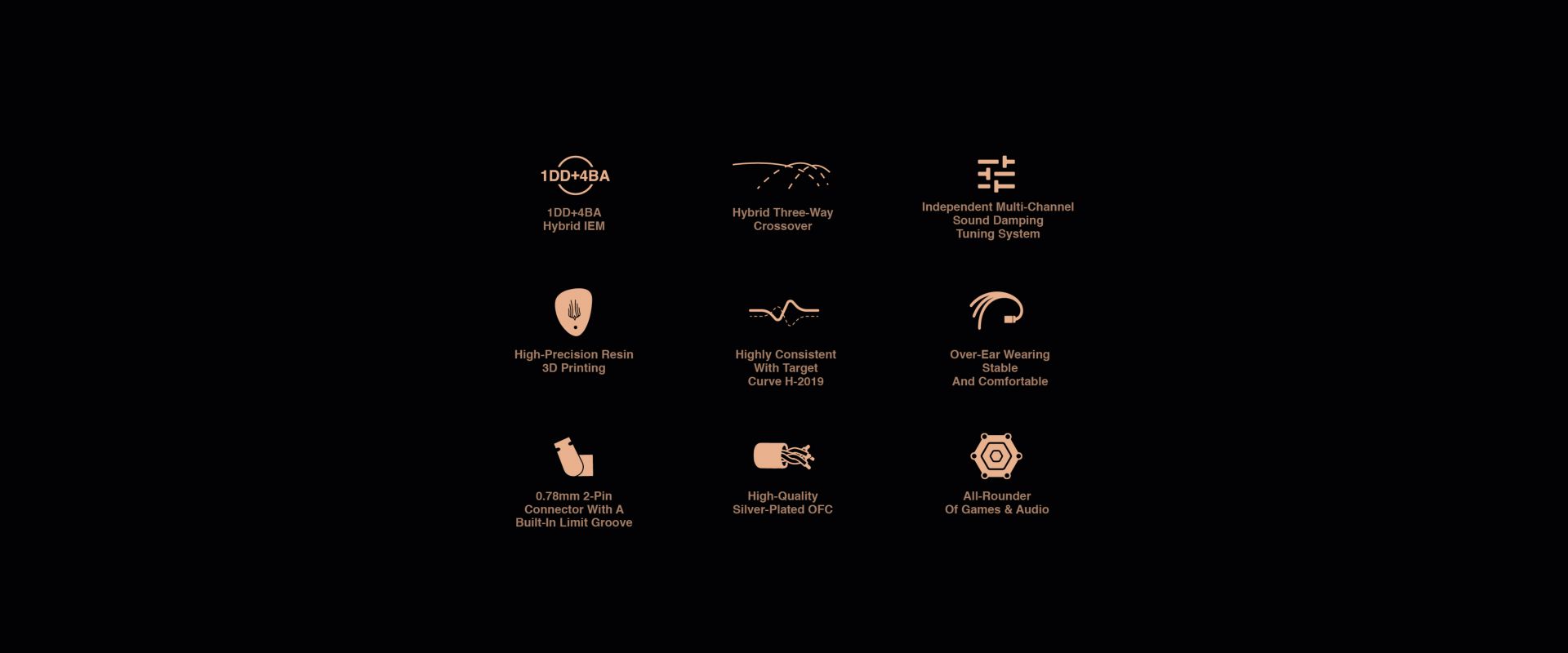 mgot EM6-L
1DD + 4BA Hybrid Drivers
Developed upon the legacy of its predecessor, the EM5, SIMGOT EM6L takes audio excellence to new heights. EM6L combines an 8mm custom-designed high-polymer diaphragm dual-cavity dynamic driver to handle the mesmerizing mid-to-low frequencies. Alongside, two sets of balanced armature drivers take charge of the mid-to-high and high frequencies. With meticulously set crossover points and precise tuning techniques, we not only achieve seamless frequency response and phase coherence but also achieve a harmonious blending of tones.
Tuned Towards the H-2019 Target Curve
The H-2019 Target Curve is universally acclaimed for its three-frequency balance, precise soundstage reproduction, and accurate imaging. You can experience the richness of lows' ambiance, the depth of steady mids, and the captivating allure of the highs' response . The newly launched EM6L earphone has been designed to adhere to the H-2019 Target Curve, boasting three-frequency balance, a natural soundstage, and an expansive audio field. Elevate your listening experience to true HiFi levels with this extraordinary earbuds. Get ready to be captivated by every sonic detail - it's time to embrace audio nirvana!
HiFi Earbuds for Gaming
Unlock audio and gaming perfection with our versatile SIMGOT EM6L earbuds. Tuned to the H-2019 curve, SIMGOT EM6L flawlessly reproduce audio with accurate soundstage positioning and imaging, excelling in both gaming and music playback. Dynamic low-frequency response ensures precise positioning, while spatial sound effects create an immersive experience. With outstanding noise isolation, enjoy a private cinema-like audio adventure. Gain a competitive edge and elevate your gaming with our extraordinary headphones. Redefine excellence in 3D audio bliss.
3D-Printed Resin Housing&CNC Processed Faceplate
Crafted to perfection, the finely textured resin housing serves as the cornerstone for unparalleled sound purity. Eliminating standing waves, it ensures every note resonates with flawless clarity. Adding to its allure, the CNC processed faceplate brings a touch of elegance and sophistication. Its mirror-like finish exudes a sense of refined artistry, making your audio journey an immersive experience.
High-Purity OFC Silver-Plated Cable
The included silver-plated OFC cable ensures enhanced signal conductivity, allowing every musical nuance to be faithfully transmitted without compromise. The cable is interchangeable, allowing for future upgrades and personalization. The dual-pin male and female socket system, combined with the positioning groove, ensures exceptional durability and reliability. Listen to music in its truest form, with unparalleled clarity and fidelity.